While this house has been relocated from the Frankford area of Philadelphia, it represents an important part of early Philadelphia's history. Furnished with pieces original to the house, it is a great portrayal of life in a colonial country house.
Cedar Grove deserves more respect than it gets. Unassuming in the fast company of the other Fairmount Park mansions, it has many special things to reveal. It is furnished largely with original items – unique among the Fairmount Houses – and it is the earliest of the major houses. Only Boelson Cottage is older, but this distinction has an asterisk since Cedar Grove was originally in the Frankford section of the city and was moved to Fairmount in 1926.
Built by the Paschall family in 1748 as a summer retreat, it was originally two and a half stories with a pent eave and a simple gable end. By marriage it moved into the Wistar-Morris family and was enlarged in the 1790's. One of the additions was a changed roof line to the gambrel shape, which makes the attic space much more useable, and a beautiful half round window to light this space. It stayed in the family as a summer home until a railroad line was built in close proximately in the mid 1880′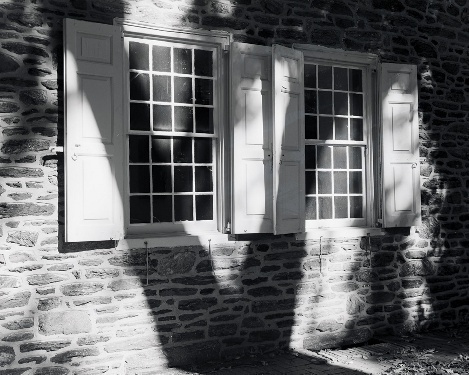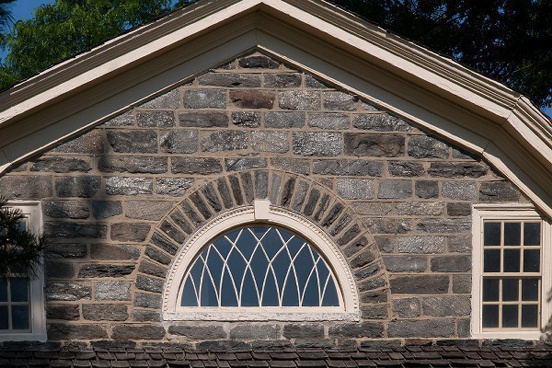 The field stone exterior is strikingly less formal than the red brick common in the area and the very broad porch (likely a later addition) adds to the informality but the house itself is still symmetrical and obviously Georgian . The six bays of densely packed windows facing south west fills the second floor with light. Inside, some of the main rooms are partially paneled but without many ornate details and the fireplace surrounds are also understated.
While too much can be made of Quaker aesthetics (many Quakers did own homes with ornate interiors) the interior's similarities with Wyck, also owned by a branch of the old Quaker Wistar family, are striking. The house is furnished mostly with pieces from the family making it and Wyck two of the very few houses to present an original integrated interior environment.