7201 N Randolph Dr., Phila. PA 19131
This Georgian House (with two later additions) is an understated jewel. Ask about the concert by candlelight series.
The original home, built in 1767, was one of the many small summer houses or villas, which are more typical of the era than Mt. Pleasant or Lemon Hill. While only three bays wide (take away the one story addition on the left and the octagonal addition on the right) it still emphasized Palladian design and proportion. Before the brick was painted over, it would have looked very Georgian.
Small as it was, the original house's appearance echoes some of Mt. Pleasant's details like the projecting pavilion with a pediment at the roof which is echoed at the frontispiece. The frontispiece itself has two Doric columns supporting a Doric frieze with triglyphs and metopes.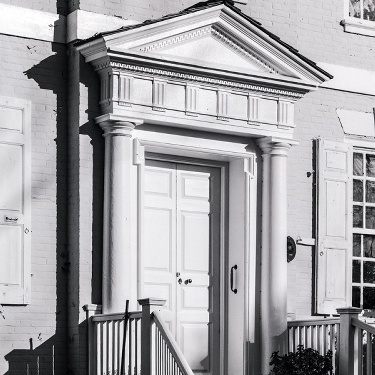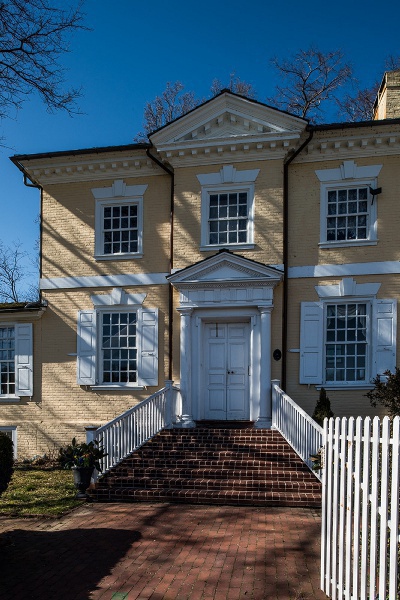 Other decorative elements are also rather grand like the projecting keystones over the windows, the large brackets at the cornice, the running Greek key dentil work similar to that at Carpenter's Hall and the stone belt course.
The first addition in the early 1800's is very utilitarian with an extension of the water table the only decoration. Unfortunately, it ruins the Georgian symmetry.
The octagonal, Greek Revival, addition from the 1830's is a whole different matter- it almost overpowers the original house. The windows are almost the same overall size as the original windows but have exactly half the number of panes of glass on the ground floor and even fewer on the upper windows.
The addition has a belt course as well but it doesn't align with the original one. In spite of the problems it creates in the front façade the addition provides a lot of additional interior space and a very grand first floor parlor which takes advantage of the octagonal space.
Originally owned by the politically active Shoemaker family, the house briefly passed out of their hands after the revolution because the family had supported the Crown (rather common among peace loving Quakers). The family later reacquired it, and then it passed on to the Physick family, the owners of the Physick house in Society Hill. It was sold by them to Philadelphia in 1869.