This fine example of a Greek revival church started life as a Georgian building and was later updated to be more fashionable.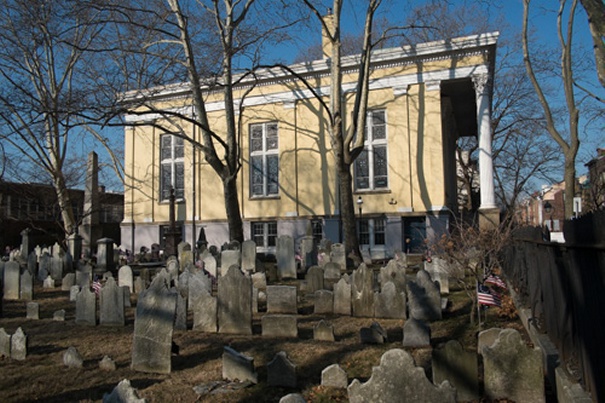 Of all churches in the colonial area of Philadelphia, Old Pine (also called Third Presbyterian) has bragging rights for a disproportionately high number of Revolutionary War participants. It was a hotbed of revolutionary fervor and its pastor, Rev. George Duffield, was chaplain to the Continental Congress. The British took revenge by turning the church into a stable and using the interior woodwork for firewood during their occupancy.
The church itself dates from 1766 making it among the oldest in Philadelphia, but it received its current appearance in an 1837 and 1857 remodel which gave it its Greek revival exterior. The interior was remodeled in 1867 & 1952. The front is particularly grand with eight paired Corinthian columns (octastyle).
In its Georgian configuration, there was a pedimented frontispiece and with a Palladian window above. The replacement door is in keeping with the Greek revival style but the tall thin groupings of four double hung windows with stained glass lights are much more Victorian in feel, especially with the corbeled overwindow decoration. Corinthian pilasters continue around the two sidewalls of the church. Surrounding the church is one of the few Colonial era church yards still in existence within the city.