While suffering a little from several additions and a reorientation from 5th to 4th streets, the church, and particularly the graveyard, is a must see. The numerous Irish, French and Spanish graves area reminder how international the Revolution really was.
Old St Mary's is a little disappointing when you first see it. Its flat front is of beautifully laid brick but the gothic pointed arches and other details look curious in this Georgian/Federal neighborhood. At the roof level there are no spires or crosses to interrupt the straight cornice other than a slight projection at he raised center pavilion. The religious symbols are set into the front façade with a niche with a statue of Mary above the front door and flanking it are two crosses of white stone set in flush with the brick. In all, the front manages to fit in well with the surrounding brick buildings but it still announces that it is somehow different.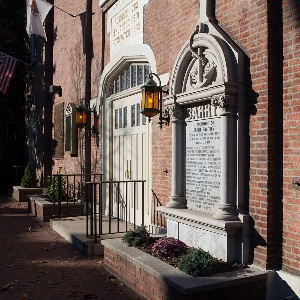 The rear is even more curious, a rounded apse projecting out of the very flat brick façade which ends in two rounded corners. The forms make the rear seem Romanesque and fortress like and the round arched windows reinforce the Romanesque feel.
This architectural schizophrenia is caused (as it usually is) by two building efforts. The original building was built in 1763 with rounded arches of the prevailing Georgian style. You can see where the old west façade was by looking at the gable end of the roof. 
The original church was oriented to Fifth Street at the rear of an earlier burial ground started by Old St. Josephs. The later 1810 Gothic addition reoriented the church to 4th Street. Its 1810 date makes it one of the earliest Gothic style buildings in Philadelphia. Finally, the old front west end had a bay added with an apse and rounded corners when the alter was relocated to the west end of the church.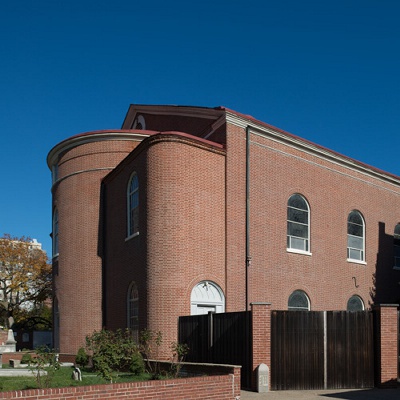 Like Old St. Josephs, the interior is very neoclassical with a fine balustraded balcony. The church and graveyard is steeped in history. As the major Catholic Church in Colonial Philadelphia, it is the final resting place of many Irish, Spanish and French participants in the revolution and the nations' founding. Two of most noteworthy are Commodore James Barry, "founder" of the US Navy and Thomas Fitzsimons, one of two Catholic signers of the Constitution. After Yorktown the combined French and American forces held a public thanksgiving at the church. The conquered British colors were laid at the altar.