One of the grandest of Philadelphia's country seats, the Woodlands is an exceptional example of Federal architecture.
Hidden in the center of a West Philadelphia cemetery is one of the most spectacular Federal houses in the United States. The Woodlands estate was started in 1742 by Andrew Hamilton who was speaker of the Pennsylvania assembly (he may have had a hand in the design of Independence Hall). This earlier Georgian house was completely engulfed by the current Federal era mansion built by his grandson, William Hamilton, in 1788.
The Greek temple inspired portico front, facing the Schuylkill River, is an early example of the two story portico in the United States. Flanking this portico are two Palladian windows set in blind arches. On either side of the house, are two projecting bays creating two elliptical rooms on the interior – a design hallmark of the Federal style. Also not to be missed is a wonderful Federal era stable which still exists on the grounds.
The estate originally included over 600 acres stretching from the Schuylkill River to Market Street on the north and 42nd street on the west. William Hamilton was very interested in botany and planted the grounds with over 10,000 species, many which he imported into the United States for the first time.
A large section of the land was laid out as one of the leading English natural style gardens in America. Much of this property was sold off in the early 1800s as the urban development of Philadelphia expanded across the Schuylkill River. The remaining acres along the river, including the house, were purchased in the 1840s to be converted into a nondenominational cemetery to rival Laurel Hill located farther north along the Schuylkill..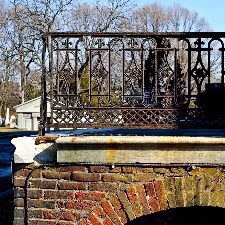 Seeing The Woodlands today, it's hard to imagine the original appearance and surrounding environment of the building. Though difficult to see, the house is on axis with the lower Schuylkill River which makes a sharp 90° turn immediately in front of the estate. The appearance of this temple portico on the hill as one came up the Schuylkill toward it, must've been one of the most impressive approaches to a country seat anywhere.