Although a re-creation, City Tavern creates a more or less authentic atmosphere of an 18th century (high end) eating and drinking establishment. The award winning chef Walter Staib specializes in food inspired by 18th century examples..
Taverns played a central role in colonial life for men. They were social centers and and an important place to make deals and promote oneself in business. In a commercial and political center like Philadelphia, it's almost impossible to overestimate their importance.
Philadelphia was also cosmopolitan, and welcomed a constant flow of visitors and immigrants who would also use the taverns for the same information gathering purposes as well as lodging. Philadelphia boasted an unusually large number and variety of taverns – a fact commented on by many of the founding fathers when they visited here. Most taverns along the waterfront were small, inconspicuous, buildings like the Man Full of Trouble tavern on Spruce Street. They served neighborhoods like the waterfront and were a favored business operation among widows trying to provide for themselves.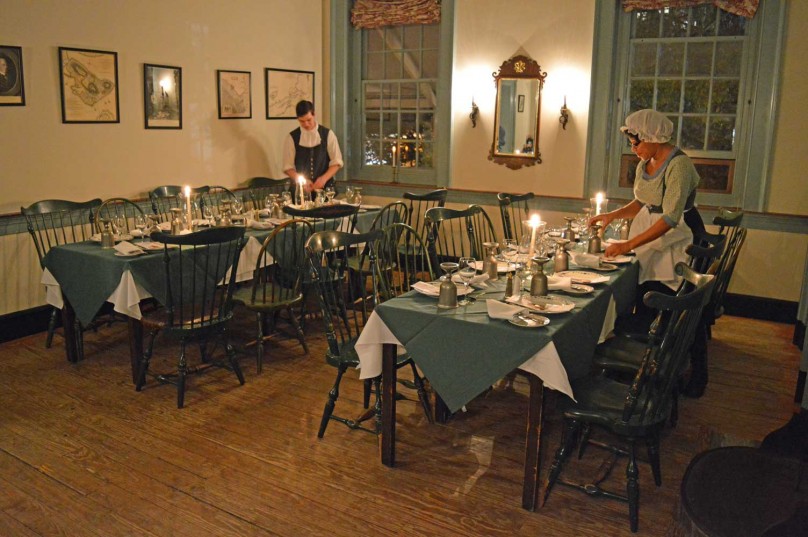 Some, like City Tavern, were much larger. As Philadelphia grew and prospered, its businessmen and other prominent citizens wanted a place to meet and entertain. A group of them got together and built the City Tavern in 1773, just in time for the Main Event. When compared to the Man Full of Trouble, the City Tavern's grand scale is obvious and it joined about a half a dozen similar establishments at the elite top.
These, like most other taverns, had accommodations for travelers in varying degrees of comfort (or lack thereof). Their importance collectively began to wane as hotels and restaurants began to open in the early 1800's (like the St. Charles from 1850 at 60 N. 3rd St – a late but grand example) The City Tavern fell victim to a serious fire in 1834 and was demolished in 1854. The reconstruction from 1976 accurately portrays its original appearance. It is operated as a restaurant specializing in modern interpretations of colonial era food and drink.