Lemon Hill with its oval rooms on three levels and a great siting within the local environment defines the elegant Federal country house. It is also spectacularly furnished with Art Museum holdings of the era.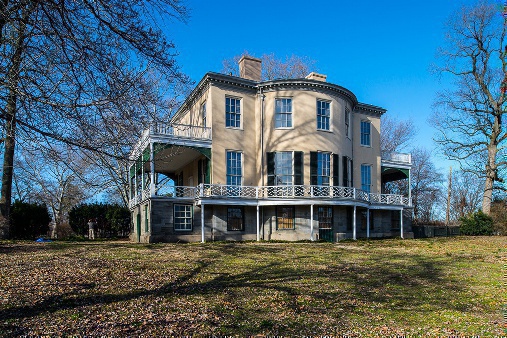 Lemon Hill is the newest of Philadelphia's three great Federal mansions. While the Physick House (1788) and the Woodlands (1780's) were earlier, Lemon Hill strikes an almost perfect balance of size, site and detailing. Built for businessman Henry Pratt, its simplicity and elegance embodies the Federal Style. It's particularly interesting to compare the house to nearby Georgian Mt. Pleasant. Lemon Hill lacks the projecting pavilion and while it's also built of stucco over rubble, it lacks the brick quoins which greatly simplifies the front elevation. The hipped roof is also shallower and lacks dormers, making the roof far less visible.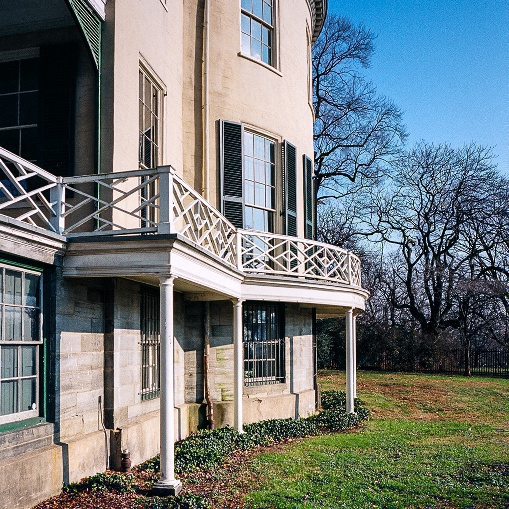 Fewer windows emphasize the flat planes of the wall more but the front door gets a very different treatment with an immense fan light and a pair of sidelights, each with beautiful tracery. The whole entrance is surrounded by an immense arched opening with each voussoir emphasized. Two side roofed porches, with an unroofed narrow section across the rear of the house, emphasize the house's horizontal feel and a more open relationship with the outside when compared to the very self-contained Georgian Style. 
As elegant as the outside is, the real fireworks are on the interior. It's hard to say how much of the interior detailing is original – gone for example are any of the plaster decorations on the ceilings you would expect in a house of this type, but two features stand out. The first is a Palladian window in the front hall on the second floor. On the interior it extends to the floor creating a great visual connection with the outdoor environment. 
The second "wow" feature is the stack of three elliptical rooms, one above another, occupying almost the entire rear of the house. On the ground floor, the room was for dining and on the upper two floors they were parlors with fine views of the Schuylkill. Most of rooms have full height double hung windows which both provide exterior access and a strong visual connection to the exterior environment. The fabulous interiors are set off by period interior furnishings.