The villa house type proved that you didn't have to be grand to be elegant. The small thing done well as an aesthetic would develop throughout the Victorian era but found it's beginning in these small country villas.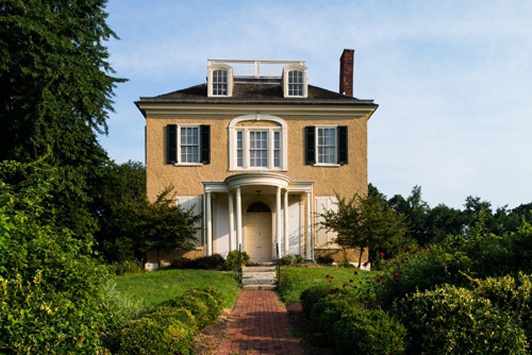 In the late 1700's, a new housing type was being built by the well-to-do in America – the villa. Inherited from Italy via England, the late 18th century and early 19th century villa was a variation on the classical model of a house in the country to be used to enjoy nature.
The English originally reinterpreted it to define a house designed for minimal entertaining (a major distinction among the upper classes) and small enough to accentuate a direct relationship with nature – usually having large windows and even a veranda. The first of these small "private" villas built along the Schuylkill is John Penn's Solitude (1784) followed by Ormiston (1798) and Rockland (1810).
Rockland is a wonderful example of this trend, done in the Federal Style. It approaches a cube in its proportions and is symmetrical on its major axis. A hip roof and a baluster at the roof line emphasizes its formality making the front of the house particularly noteworthy.
At the second floor is a great Federal interpretation of the classic Palladian window with a flattened elliptical molding over the stucco (replacing the earlier semicircular fanlight) and two very thin sidelights.
At ground level is a spectacular portico with tall slender Corinthian fluted columns. As Roger Moss observes in Historic Houses of Philadelphia, seeing this portico makes you wonder how many other houses have lost this type of "attached" feature which so changes the entire appearance of the front elevation.
The rear of the house, while plainer, is no less important. A wide veranda stretches across the entire rear of the house with wide stairs down to the lawn. Four full height French doors lead into a ballroom which also extends across the entire rear of the house. This ballroom along with the beautiful wide interior stairway clearly states that the house was designed to impress guests as well as allow the owner to commune with nature.