This grand mansion in the Georgian Style would have been one of the showplaces of Colonial Philadelphia but the ground floor exterior and interiors were lost in the 1800's.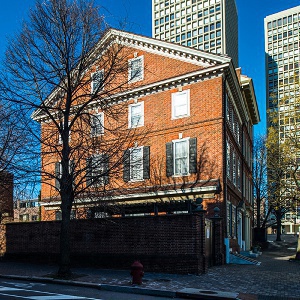 The Samuel Neave house is a little overshadowed by its larger neighbor, the Abercrombie House. This is too bad since its impressive height at 3½ stories and width at 29′ would make it a mansion by anyone's standards, particularly considering its 1759 date. As beautiful as the first floor exterior is, with its elaborate frontispiece, it's all a re-creation. Sometime in the 19th century, before the Civil War, the house had been converted into a store and remained so until the 1950's.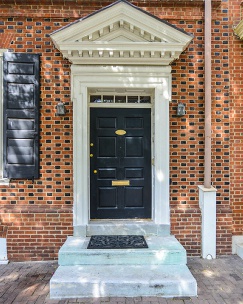 The entire south elevation including the windows and the pent eave may also be inventions since there have been buildings between the house and Spruce Street in the past which covered most of this facade. The front cornice, decorative lintels with keystones and belt courses are original as is some of the interior trim. The other added details are in keeping with the house's grand manner.