This large but subdued house was home to two of Colonial America's most famous physicians and educators. With its two large symmetrical facades it presents an impressive statement to the street.
With the founding of Pennsylvania Hospital, Philadelphia became a center for medical science and physicians. People, particularly wealthy people, came from around the colonies to be treated and physicians became both renowned and wealthy themselves. The Shippen-Wistar house can lay claim to two medical connections.
The house was built for Dr. William Shippen a leading physician and educator who headed the medical department of the Continental Army from 1777-1781. It was then owned by Caspar Wistar, also a physician and educator in chemistry and anatomy at the University of Pennsylvania who lived in it from 1798 -1809.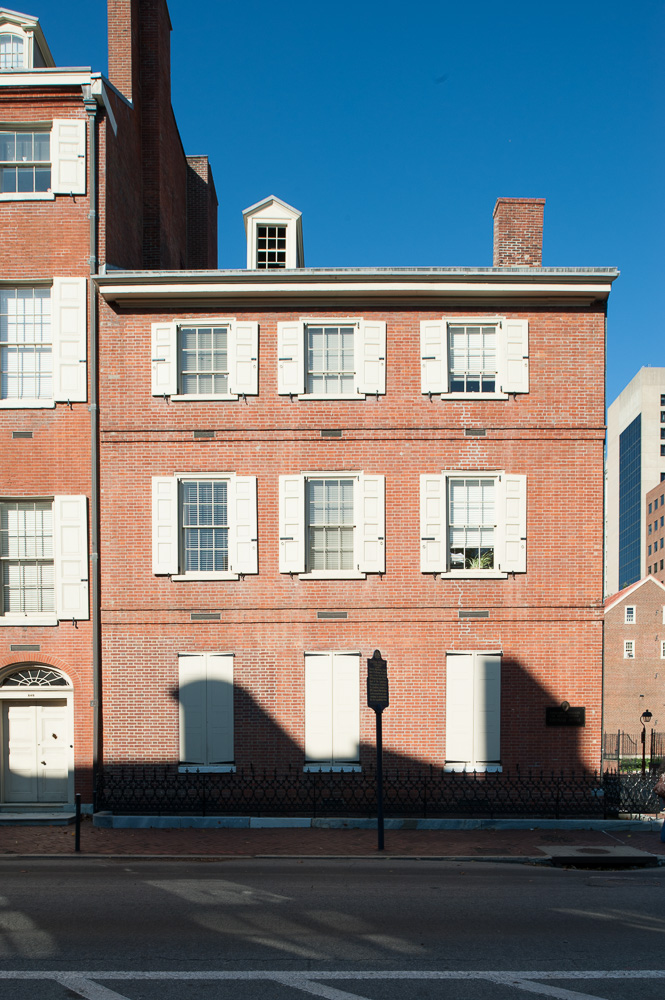 Wistar became one of the key figures in the city's intellectual circles by succeeding Thomas Jefferson as the president of the American Philosophical Society. Wistar would open the house once a week in the winter months to friends and students for salons where ideas of the day were discussed and these parties became famous throughout the city.
A friend, the botanist Thomas Nuttall probably named the Wisteria plant after him (Nuttal also knew other members of the family). Last, but not least, Wister was president of the Society for the Abolition of Slavery, generally considered America's first abolition society founded in 1775.
In 1913 it was converted to offices for The Mutual Assurance Company by Stewardson & Page and later became the Episcopal Diocese offices for Philadelphia.
The house is a high Georgian structure. It is extraordinarily wide (33′ & 42′) and takes advantage of its corner location to locate the front door (with a restrained Tuscan frontispiece and fanlight) in the center of the 42′-0″ Locust St. façade. The width of both facades allows the house to be symmetrical on both axes and include several large widows for maximum daylight. Other Georgian details include brick belt courses, a water table and Flemish bond brick coursing with glazed headers on the Locust street façade. Missing though are any decoration at the cornice and lintels giving the house a rather somber appearance. On the interior there is an original staircase by Thomas Nevel.