The incomplete exterior doesn't detract from the fact that this is the work of one of the most important American architects of the 19th century. See the interior if possible.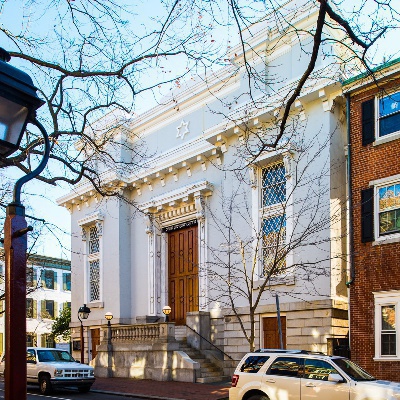 It's a sad reality that members of religious congregations may relocate but buildings usually can't. Neighborhoods change and people move away. From a philosophical and architectural point of view, the best outcome is for another group to take over the building and keep using it for worship.
The Society Hill Synagogue started life as the Spruce Street Baptist Church in 1829; designed by a distinguished member of the congregation Thomas Ustick Walter. In 1851 it was remodeled by the same architect adding a new scored stucco façade and new twin corner towers, with cupolas (now lost). While the building has some Greek revival elements, like the granite basement and the lintels with corbels, its emphasis on verticality and other decoration show Italianate and Renaissance eclectic influences. It's interior and exterior was lovingly restored in the 1970's.