One of the few restored middle class Georgian rowhouses, the Todd house is worth taking the trouble to see.
This house was originally built and then sold to John Todd, a Quaker lawyer. Like Carpenter's Hall, this house proves, a Georgian building doesn't have to be large to have a presence. The style may even particularly lend itself to small buildings, as long as the detailing is done well, the proportions are paid attention to and the rules of symmetry are followed.
As an "end of row" house, it was ideally suited for John's practice. The entrance, off Fourth Street, allowed a center hall plan with a hall in the short direction rather than the longer side hall of the typical row house. This in turn allowed slightly larger rooms on the ground floor which were more directly accessible off the street.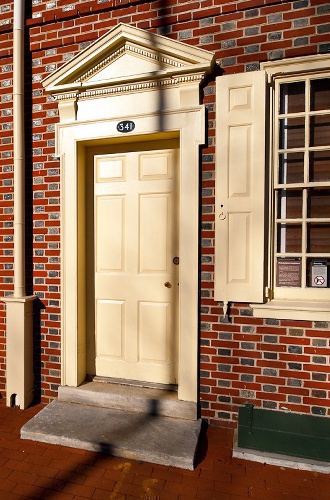 The front parlor was probably used to see clients and the rear parlor would have been more for family use, possibly acting as both a sitting room and a dining area. Todd, like others aspiring to upper class status and manners, would've also likely had a more formal second floor parlor devoted to host guests for tea (sometimes called a tea room or drawing room).
Tragically Todd and his infant child died in the yellow fever epidemic of 1793. His death has benefited us by providing a very complete estate inventory giving a good picture of how a young but somewhat affluent lawyer furnished his home. But, before any social safety net, a young breadwinner's death before he had had a chance to amass any wealth was devastating to his wife and other child, leaving them with no means of support.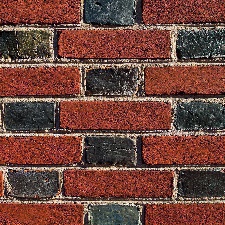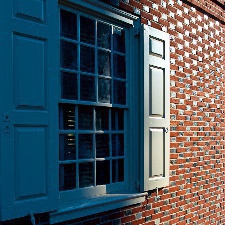 Fortunately, his wife Dolly was a vivacious Quaker inn keeper's daughter and within a year had met a shy young Virginia planter who was playing a pivotal role in the new government named James Madison. They married and lived in Philadelphia for the next four years before moving to Madison's home in Virginia, Montpelier. Later of course, they were to move to a beautiful white Federal mansion in a small town south of Philadelphia.
The fourth street façade is plain and formal with a rigorously symmetrical arrangement of windows and doors. The cornice on the front and back of the building has been extended across the gable end on the Fourth Street side forming a triangular pediment at the roof level. This strong horizontal line is echoed in two raised brick belt courses at the first and second floor levels. In a slight nod to luxury, the brick is laid in a Flemish bond with glazed headers, enlivening the surface with the glittery blue bricks. The front door is rather restrained by Powel House standards with only decorative crossettes (the architrave's "ears") but it does feature a small pediment which nicely lines up with the pediment of the roof above giving even more emphasis to the building's symmetry.